EXPOSITION DE PÂQUES 2022
A ST VALERY ET PORTES OUVERTES A NOYELLES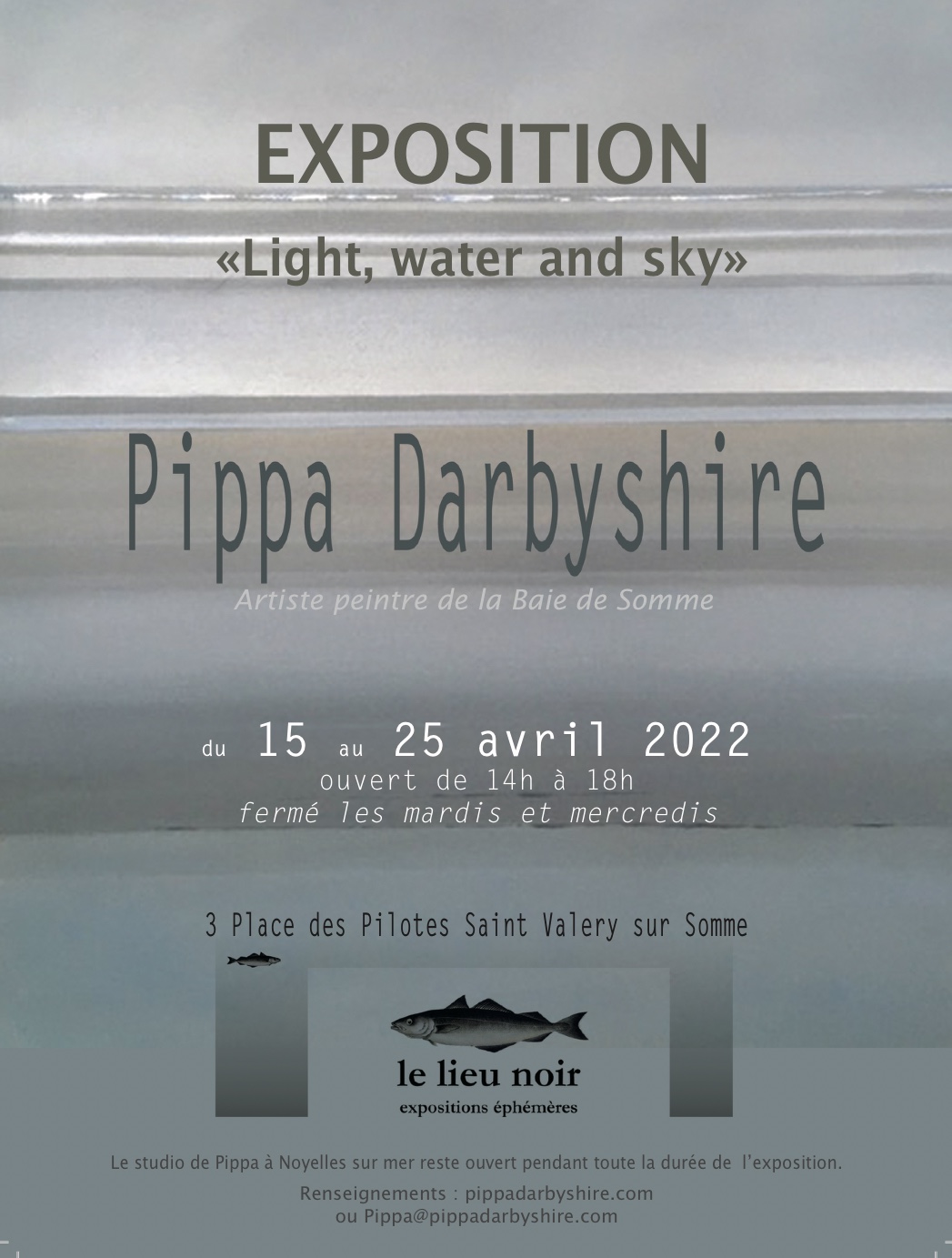 EXPOSITION DE PÂQUES A
ST VALERY ET PORTES OUVERTES A NOYELLES
Hi,
J'espère que vous et votre famille vous portez bien malgré les temps inquiétants que nous vivons.
Maintenant que voyager est plus facile nous nous aventurons à nouveau en France.
Il me tarde d'être en Baie de Somme pour Pâques où j'exposerai dans le nouvel espace "LE LIEU NOIR" à Saint Valery. En même temps j'organiserai des journées PORTES OUVERTES dans mon atelier de Noyelles sur Mer où je serai présente pour accueillir mes amis.
Si vous êtes dans le coin, j'espère que vous pourrez me rendre visite sur les deux sites. J'ai beaucoup de nouvelles toiles de la mer vue des deux côtes de la Manche à vous montrer. Et nous bavarderons autour d'une tasse de thé.
En dehors des heures d'ouverture indiquées sur l'affiche, vous pouvez m'appeler au 0670930600 pour convenir d'un rendez-vous.
Je continue à mettre en ligne de nouvelles peintures ainsi que le calendrier de mes prochaines expositions et ouvertures de mon atelier.
J'espère vous voir bientôt.
Best wishes
Pippa
PS : Je veux particulièrement remercier Mireille André pour ses traductions et Jane Trouve pour sa belle affiche et le flyer.
EASTER EXHIBITION IN
ST VALERY and OPEN STUDIO IN NOYELLES
Hi,
I hope you and your family are well and happy despite the worrying times we live in.
Now that travel is easier and we are venturing out again, I am looking forward to going to France.
I am having an Easter exhibition in the Baie de Somme in the new gallery space "LE LIEU NOIR" in St Valery. At the same time, I am having OPEN STUDIO in Noyelles where I will be present to welcome friends.
I hope you will come to both venues if you are in the area as I have lots of new paintings of the sea from both sides of the Channel to show you and we can chat over a tea.
If you want to come to the exhibition or my studio outside the opening hours on the poster, you can ring me on 0670930600 to arrange a time.
I will continue to post new paintings on to my website and to send you updates of my forthcoming expos and open Studios and I look forward to seeing you again whenever you can come.
Best wishes
Pippa
PS : I want to say a special thank you to my friends Mireille Andre for translating everything for me and Jane trouve for designing the lovely poster and the flyer.