Version française – cliquez ici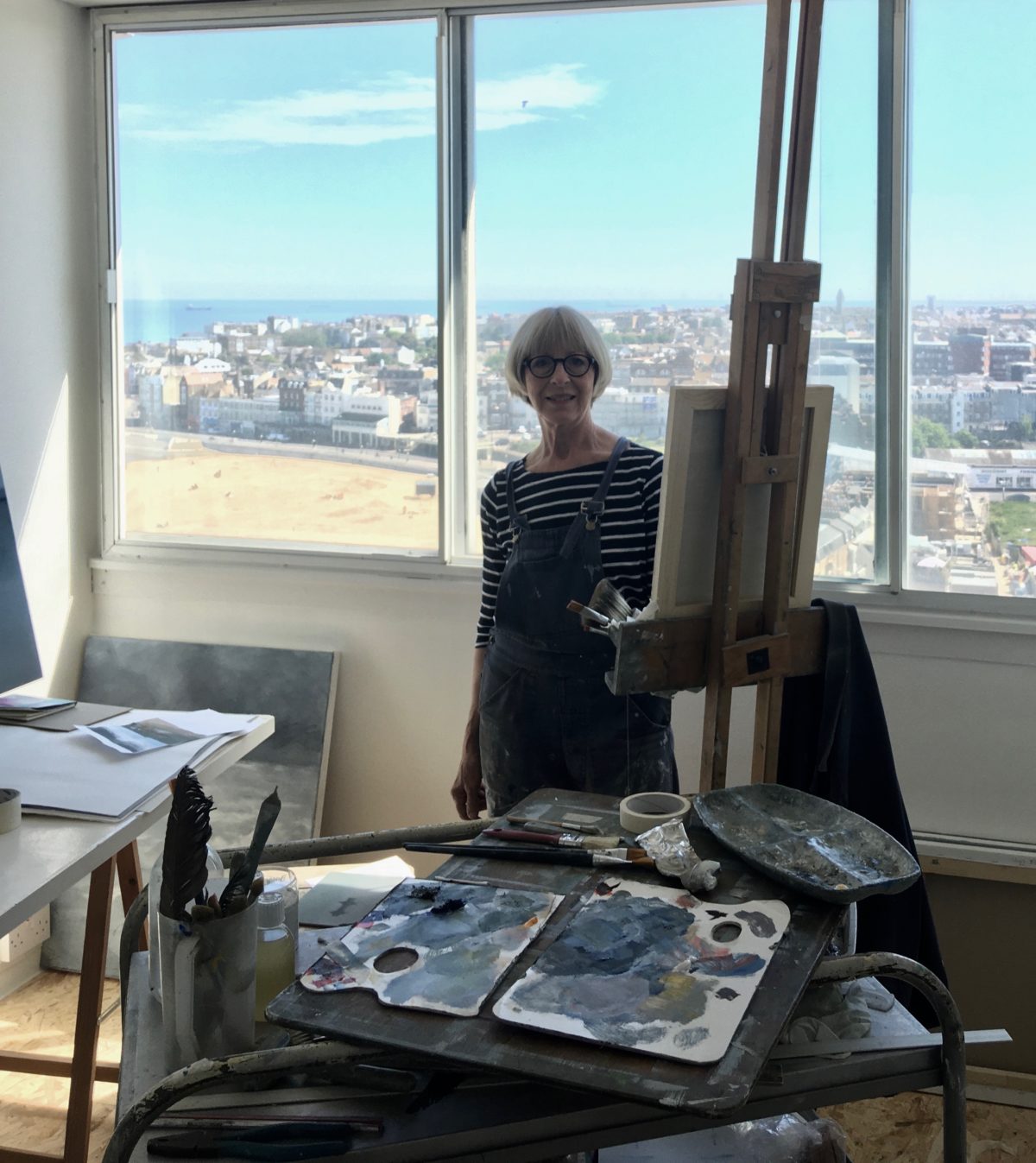 I spent the past winter and the months of "lockdown" painting in my new studio in Margate in the UK.
It has been a very different experience from in France, where I have been living and working for the last 20 years. There I painted the sea ,from the south facing shores of the "Baie de Somme" but here I have an almost aerial view from my studio which is on the 14th floor over looking the sea and it faces north east.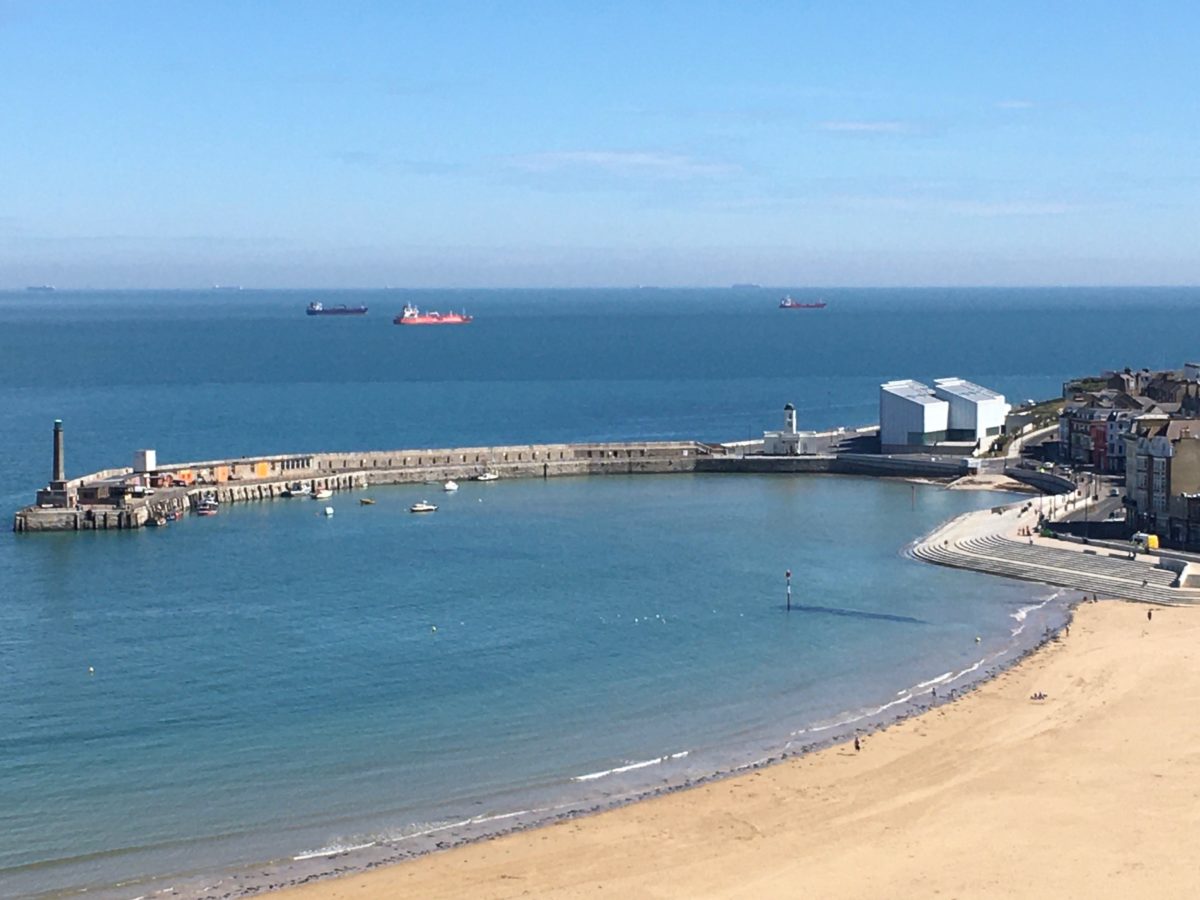 I found it very difficult to start painting again after the disruption of the move. Although I am happy to be back near my family, I miss our home in France, our friends and our beautiful cafe. I spent many hours, days and even weeks gazing out of the window, transfixed by the beauty of the panoramic sea view, looking through binoculars, maybe in an attempt to see France, making notes and sketches, and taking photos, but unable to motivate myself to paint.
Gradually, I was able to put aside my minds images of past painters like Turner, Cotman and Bonnington and their beautiful skies and beaches of Margate, and the infectious influences of contemporary local artists, and I began to see it through my own eyes.
I began to identify with what I saw and was able to project myself 'out there' – I started to see MY colours, MY rhythms and MYself.
I also saw ships. Loads of them. So, I still paint the sea in my usual palette of ultramarine blue and raw umber, and still in my own minimal manner, but now there are ships on my seas!
I think this exhibition marks only the the beginning of my exciting new trip.
They glide silently into my pictorial frame – horizontal dashes of red, black, grey or white ships of various sizes offering new compositional opportunities in my otherwise empty seas. From the ground, ships appear to be sitting on the horizon, but from up here , there is obviously different perspective so they are dotted all over the place like musical notation, with their juxtapositions making rhythmical abstract patterns. They don't appear to be moving accept in relation to each other, but as I look through my compositional frame, like tortoise they may suddenly disappear.
Totally unpredictable, there can be one solitary ship or thirty – they come in and out of view, depending on the weather, atmospheric conditions and visibility, and sometimes they will suddenly sparkle from the gloom or one will shine blindingly as its caught in the suns beam. On a beautiful sunny day like today when there is a sea mist or when it is foggy you can't see the horizon but you can just make out an occasional ship which appears to be floating in mid air. For every boat I can see, there can be another 4 or more looming like ghosts in the distance when I look through binoculars…….
From this distance the biggest , most enormous vessels don't appear to rock even in a storm, and I find this constant steadiness calming and reassuring.
Ships at anchor often stay for several days and to paint them is like painting a 'still life' – they all face the same way and the only movement they make is to revolve very, very slowly and majestically in harmonious unison, like the shadow thrown by a sundial, to face the other way as the tide turns. When they face to the right the tide is coming in and visa versa which I know sounds unscientific but like a hunter or a fisherman, an artist tends to learn through observation , experience and intuition and by tuning-in with nature rather than by scientific facts.
I am not particularly interested in the ships for themselves but for visual, aesthetic and pictorial reasons. I don't need to know from where they came or are going. These are not little sailing boats or fishing boats which I would find difficult to paint without romanticising, these are gigantic liners going to faraway places.
However, I must confess to a certain existential fascination when I try to imagine people on board. It's like peering at an aeroplane and imagining passengers, or to use the tortoise analogy again, it reminds me of when my children and their friends used to stand for ages staring at the box on the high shelf in the garage in which their tortoise was hibernating.
For me, I suppose there is also a touch of nostalgia about ships too. When a naval vessel passes I am put in mind of my father, a Royal Marine, and when we, as kids would all go to the dock to meet him after he had been away at sea for many months. He would take us aboard to his cabin, to open trunks full of gifts from the Far East that neither we nor anyone else on these shores had seen before – battery operated barking dogs, felt tipped pens and wonderfully exotic flies for fishing…………I digress!
There are many differences between working here and in France, not least that Margate is a busy, energetic town with a different dynamic to the calm and remote Baie de Somme. I only have to glance eastwards to see the townscape and the enormous amusement park, Dreamland, or to open a window to hear gulls squawking, children on the beach screaming, constant traffic and emergency sirens. It is not peaceful or meditative like the bay except at the moment during "lockdown" when it is heavenly. But I am always somewhat removed from everything up here, 14 floors off the ground, and when I paint I can transcend all earthly business, materialism and the chaos we are in as my mind drifts away with the ships.
---
Un nouveau départ
J'ai passé l'hiver à peindre dans mon atelier de Margate en Angleterre.
En France, pendant ces 20 dernières années, j'ai peint depuis les plages de la Baie de Somme face au sud alors qu'ici j'ai une vue quasi aérienne depuis mon atelier du 14ème étage dominant la plage de Margate face au Nord. Cette différence de lumière à inévitablement influencé mon travail.
Il m'a été très difficile de me remettre au travail après l'interruption du déménagement. Cependant, je suis heureuse d'être de retour près de ma famille même si notre maison en France, nos amis et notre beau café nous manquent.
J'ai passé beaucoup d'heures, de jours et même de semaines à regarder par la fenêtre, captivée par la beauté de la vue panoramique sur la mer, à utiliser les jumelles peut être pour tenter de voir la France, à prendre des notes, des photos, à faire des croquis, mais incapable de me motiver pour peindre.
Progressivement, j'ai réussi à mettre de côté les images qui me venaient à l'esprit tels les magnifiques ciels et plages de Margate peints par Turner, Cotman et Bonnington, à écarter les influences contagieuses des artistes locaux contemporains, et j'ai commencé à voir avec mes propres yeux.
Je me suis inspirée de cette vue et de mon imagination. J'ai commencé à distinguer mes propres couleurs, à ressentir mes propres rythmes, et j'ai trouvé ma voie.
J'ai aussi vu des bateaux. Plein de bateaux. J'ai continué à peindre la mer dans ma palette habituelle de bleu outremer et terre d'ombre, toujours à ma manière minimaliste, mais avec en plus des bateaux !
Ils glissent silencieusement dans mon cadre pictural, touches horizontales de formes et de tailles différentes, rouges, noires, grises ou blanches, offrant de nouvelles opportunités de composition dans mes mers habituellement vides.
D'en bas les bateaux semblent comme assis sur l'horizon mais, d'en haut, ils sont disséminés comme des notes de musique, leur juxtaposition formant des motifs abstraits rythmés et harmonieux. On a l'impression qu'ils ne bougent pas sauf les uns par rapport aux autres mais ils disparaissent subitement si vous regardez ailleurs un instant..
Il peut y avoir un bateau solitaire ou une trentaine. Ils entrent et sortent de mon champ de vision en fonction du temps, des conditions atmosphériques et de la visibilité. Ils vont soudain briller dans la grisaille ou l'un d'entre eux étinceler aveuglement comme pris dans un rayon de soleil.
A cette distance, ces énormes navires ne semblent pas tanguer même dans la tempête; je trouve cette stabilité apaisante et réconfortante.
Parfois ils sont à l'ancre au loin pour plusieurs jours. Les peindre c'est comme réaliser une nature morte. Ils ne bougent que pour pivoter à l'unisson très très lentement, majestueusement avec le changement de marée… C'est comme regarder l'ombre projetée sur un cadran solaire.
Quand ils s'orientent vers la droite c'est que la mer monte et vice versa. Je sais que cette explication n'est pas scientifique mais les artistes, comme les pêcheurs ou les chasseurs, apprennent de leur observation, de leur expérience, de leur instinct, en accord avec la nature.
Par temps de brouillard, de brume, ou quand il y a une nappe de chaleur comme aujourd'hui, on ne voit plus l'horizon mais on peut distinguer les bateaux comme flottant dans l'air.
Je ne suis pas particulièrement intéressée par les bateaux eux mêmes. Peu m'importe où ils vont ni d'où ils viennent. Je les aime pour des raisons visuelles, esthétiques et picturales.
Ce ne sont pas des petits voiliers ou bateaux de pêcheurs qu'il me serait difficile de peindre sans les romantiser, ce sont des paquebots qui s'en vont vers des destinations lointaines.
Je dois cependant confesser une certaine fascination existentielle à imaginer les gens à bord. C'est comme scruter un avion et penser à ses passagers. Cela me rappelle mes enfants et leurs amis fixant pendant une éternité la boîte dans laquelle leur tortue hibernait sur une haute étagère du garage.
Je suppose qu'il y a aussi en moi une pointe de nostalgie à propos des bateaux. Quand passe un vaisseau naval, mon père officier de marine me revient en mémoire et le temps où, enfants, nous allions tous aux docks pour le retrouver après plusieurs mois en mer. Il nous emmenait à bord dans sa cabine pour ouvrir des coffres plein de cadeaux d'extrême-orient que personne n'avait jamais vu sur nos rivages : des chiens aboyant à piles, des stylos à pointe feutre, et de magnifiques mouches exotiques pour la pêche… Mais je m'égare !
Ce n'est pas la même chose de travailler ici ou en France notamment parce que Margate est une ville animée et active avec un dynamisme différent de la Baie de Somme calme et isolée. Ici, j'ai juste à jeter un œil à l'est pour avoir une vue de la ville et de Dreamland l'énorme parc d'attraction, ou à ouvrir la fenêtre pour entendre le cri des goélands, le hurlement des enfants sur la plage, le bruit du traffic et des sirènes d'urgence. Ce n'est pas paisible et propice à la contemplation comme la Baie sauf en ce moment de confinement où c'est divin.
Mais, de mon 14ème étage, je suis assez éloignée de tout et quand je peins je dépasse l'agitation terrestre, le matérialisme et le désordre dans lequel nous vivons car mon esprit a dérivé avec les bateaux.