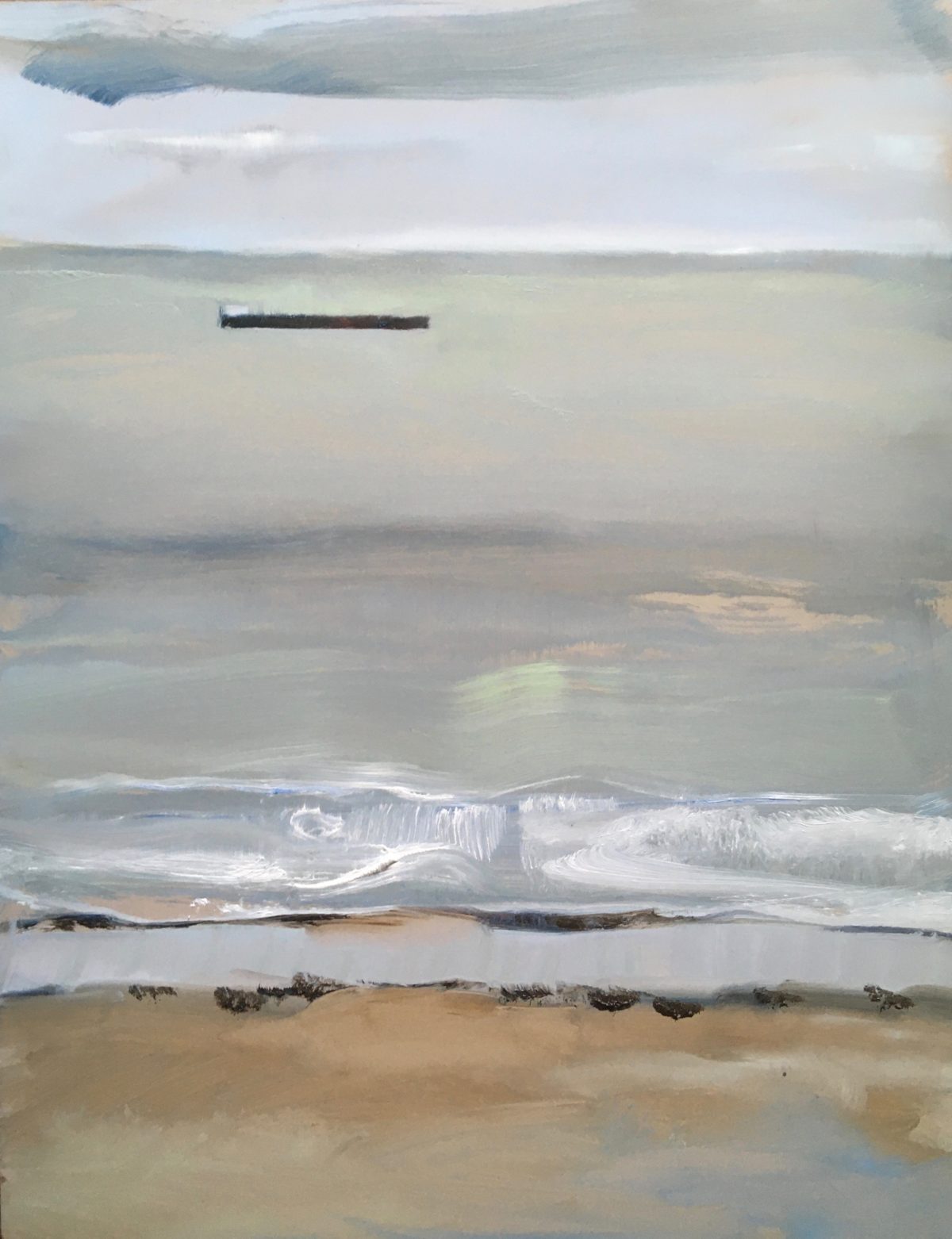 Margate 18th October 2020 30x40cms
Bonjour mes amies
J'espère que vous allez bien et ne souffrez pas trop des nouvelles restrictions imposées par le virus.
Nous sommes de retour à Margate où nous avons fait notre confinement pendant 15 jours. Ce n'était pas aussi difficile que prévu car le temps était si affreux que nous n'avions pas envie de sortir.
J'étais heureuse de m'asseoir à la fenêtre pour regarder la tempête sur la mer avec ses rafales qui rabattaient la pluie contre les fenêtres.
Curieusement, j'ai très peu peint pendant la quarantaine alors que j'avais beaucoup de temps. Je pense qu'il faut un peu de tension dans la vie pour mobiliser son énergie et l'inspiration. Cette pression naturelle que vous éprouvez quand vous êtes partagés entre ce que vous avez à faire et ce que vous avez envie de faire… Cette friction entre les forces positives et négatives que je trouve constructive et créative.
Je suis de retour à mon chevalet et me sens de nouveau suffisamment stressée aussi jetez un coup d'œil à mon site Internet ou Instagram pour voir les nouvelles peintures qui en résulteront.
FRANCE
Avec toutes ces restrictions je ne sais pas quand je pourrai revenir en France.
Si vous souhaitez visiter mon atelier à Noyelles ou récupérer un tableau, vous pouvez m'appeler au 0033(0)6 70 93 06 00 et j'organiserai une rencontre sur place avec mon amie Mireille.
En mon absence, elle peut vous ouvrir mon atelier. Il suffit que vous preniez rendez-vous avec elle : contact.mireil@gmail.com ou 0033 (0)6 63 32 76 99. Elle sera présente en Baie de Somme vendredi 30 octobre, samedi 31 et dimanche matin 1er novembre.
Pendant les vacances de la Toussaint, vous pourrez aussi voir mon travail lors de l'exposition de "Territoire Baie de Somme" à Saint Valery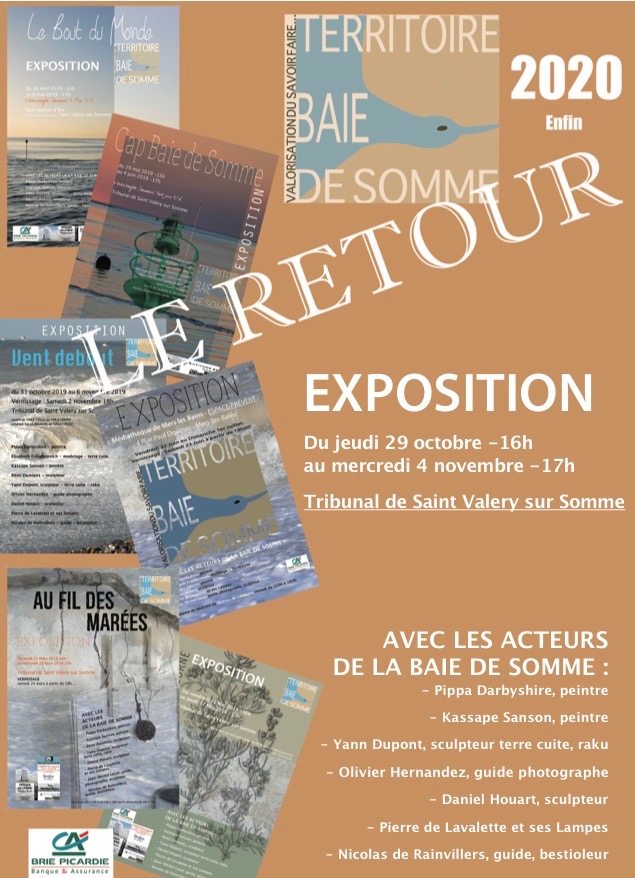 Mes expositions permanentes à St VALERY continuent jusqu'à la fin de l'année :
– au restaurant Le "Mathurin", Place des Pilotes (restaurantlemathurin.fr)
– dans la maison d'hôtes "Chambres avec vue" que vous pouvez visiter sur rendez-vous (contact@chambresavecvue.com).
MARGATE UK
Vous êtes les bienvenus pour visiter mon atelier à Arlington House à Margate. Il suffit que vous m'appeliez pour convenir d'un rendez-vous.
Au cas où vous souhaiteriez séjourner à Margate, je vous recommande l'appartement de mon fils qu'il vient juste de mettre sur Airbnb. Il est situé dans la même tour de style brutaliste dominant la mer que mon atelier.
C'est un sculpteur qui s'intéresse à l'architecture et particulièrement au brutalisme. Il a restauré l'appartement dans sont état originel avec l'ameublement classique des années 60.
C'est tout pour aujourd'hui. Je vous tiendrai au courant.
Amitiés
Pippa.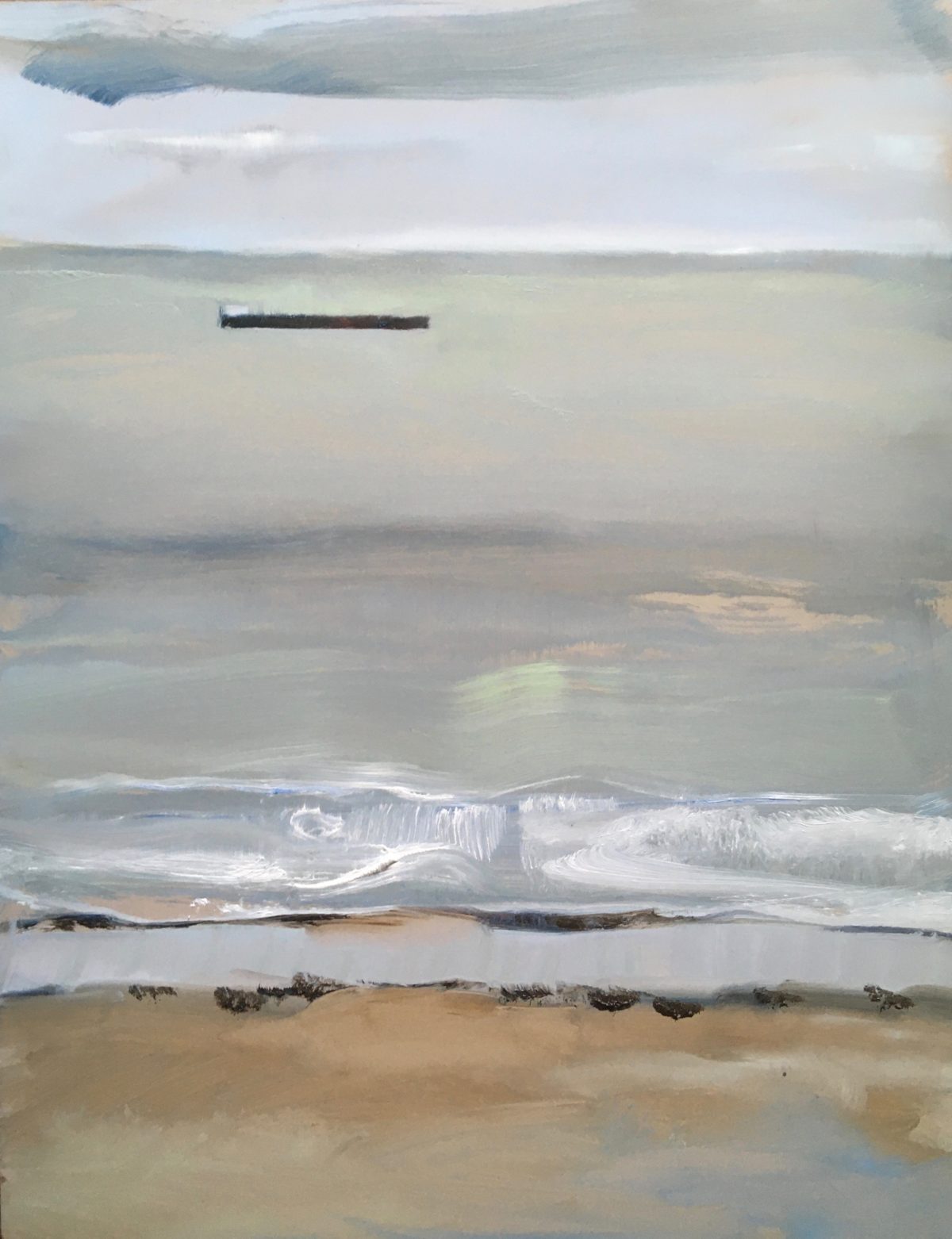 Margate 18th October 2020 30x40cms
Hello my friends
I hope you are well and not suffering too much from the restrictions that this virus imposes on us.
We are now back in Margate and have done our necessary 2 week quarantine period having returned from France.
It wasn't as difficult as I expected it to be because the weather was so atrocious that we weren't even tempted to go out . I was quite content to sit at the window and watch the storms over the sea with the gales driving the rain against the window. I would not have wanted to walk on the beach ,let alone swim.
Strangely, I didn't do a lot of painting during quarantine despite having so much time on my hands. I think you need a bit of tension in your life to harness energy and inspiration. That normal pressure you experience when you are torn between what you want to do and what you have to do……That friction between positive and negative forces, I always find constructive and creative. I am back in my studio now and feeling suitably stressed again so keep an eye on my website and on Instagram to see any new paintings that may result!
FRANCE
With all the restrictions, I don't know when I will be able to return to France but If you would like to visit my Noyelles studio or if you need to collect a painting , you can ring my friend Mireille 0033 (0)6 63 32 76 99. contact.mireil@gmail.com to make arrangements to meet you there.
In my absence, she has offered to open the studio by appointment for the WEEKEND OF TOUSSAINTS on Friday 30th, Saturday 31st and Sunday 1st November morning
During the Toussaints holiday showing my work in the Territoire Baie de Somme group exhibition,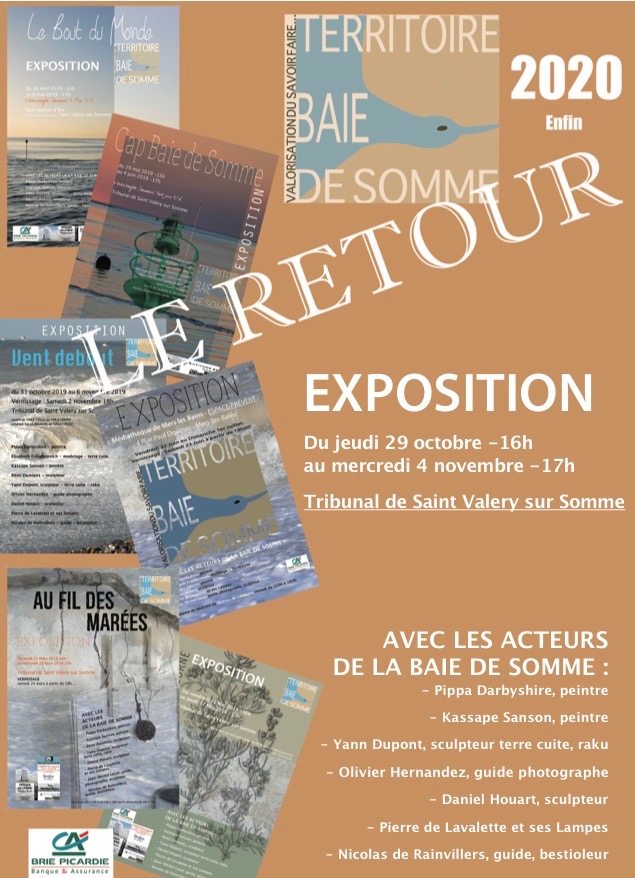 Also , my permanent exhibitions in St Valery continue until the end of the year…
Mathurin restaurant ….restaurantlemathurin.fr
Chambres avec Vue. ….contact@chambresavecvue.com which you can visit by appointment
MARGATE UK
You are welcome to visit to my studio in Arlington House in Margate . Just ring me to arrange a time.
Incase any of you would like to come to stay in Margate, I recommend my son's apartment which he has just put up on Airbnb this week .
It is in the same Brutalist tower block overlooking the sea, as my studio.
Being a sculptor interested in architecture and particularly in brutalism, he has restored the flat to its original glory with classic 1960s furniture.
Well, that is all for NOW and I will certainly keep you updated
I send my best wishes and thanks for your support
Pippa